Obama gas actually has nothing to do with the 44th president of the United States, but gas station owner Sam Bazzi, has three "Obama" branded gas stations located around Detroit, Michigan that he has been operating since the 2008 election ended.
Gas prices too high?  THANKS A LOT, OBAMA!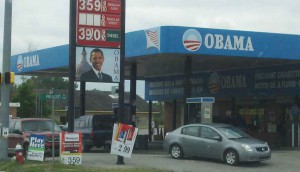 I'm sure a lot of conspiracy theorists believe this has something to do with Jade Helm.