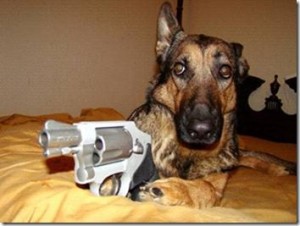 There are no photos of "Trigger" available, but this is what we suspect he looks like.
Whenever things like this happen, I like to think of the classic Steve Buscemi line from Con Air, "Define irony – a bunch of idiots dancing around on a plane to a song made famous by a band that died in a plane crash."
Here's your daily definition of irony.
An Indiana woman, Allie Carter, is recovering after a hunting accident where she was shot point blank in the foot by her dog, Trigger.     According to Indiana Conservation Officer Jonathon Boyd, the woman laid her gun on the ground, Trigger stepped on it and caused it to fire.
The woman is believed to be okay.